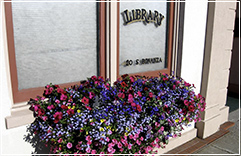 To help mitigate the emerging COVID19 threat affecting us all, you will find the following notice at the entrance of Echo City Hall. Please read and refer to it if you are planning to drop by for city business or library visits.
In consideration of others please do not enter IF:
You are sick
You have a cough
You have recently been sick
You have been around someone who is sick
If you are wanting a book or movie to check out, please call us and we will get it ready for you. Knock on the door and we will bring it to you.
If you have a book to return or a payment on your utilities, please just drop it into the slot on the Left door. If you need our assistance, please knock and we will come to the door.
Thank you for understanding and being considerate of others.
Echo City Hall
20 S. Bonanza Street
Echo, Oregon